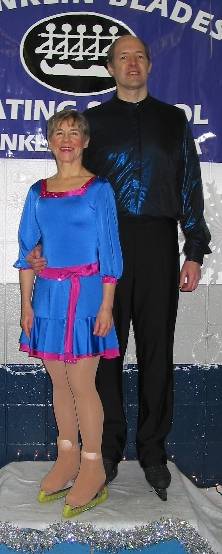 Burley Family Skating
My name is Craig Burley, and I'm pictured here with my wife Barbara, at the 2005 Annual Franklin Blades competition held in Franklin, Massachusetts. Barb's a much better skater than I am, partly because she skated in her youth (when she got as far as passing her 4th Figure Test and Pre-Gold in Ice Dancing), but mostly because she skates and works so much harder at it than I do!
I began seriously figure skating (including taking lessons) in October 2001. I've passed the Ice Skating Institute (ISI) Freestyle 1 test and my US Figure Skating (USFS) Adult Bronze Freestyle (FS) test. My wife has, as an adult, passed her ISI Freestyle 5 and USFS Adult Silver Freestyle, Adult Gold MiF, and Intermediate MiF tests. In USFS events, she usually competes in the "Masters" events, rather than the "Adult" events, due to USFS restrictions on participation by skaters who, like her, passed certain figure and/or dance tests as youngsters.
---
2008-01-10
Test Session
Colonial Figure Skating Club
Boxborough, MA

I passed my Adult Bronze Freestyle (FS) test.

2007-12-04
Test Session
North Star Figure Skating Club
Westborough, MA

I passed my Adult Bronze Moves in the Field (MiF) test.
---
Copyright (C) 2002, 2003, 2004, 2005, 2006, 2007, 2008 James Craig Burley
Last modified on 2008-01-14.